Personal Training for Couples Over 50
As we get older we become more and more aware of the importance to stay fit, strong and healthy. If you're edging over 50, you might have started to notice the odd ache and pain or are finding it harder to maintain a healthy weight.
Perhaps you once enjoyed running, tough workouts at the gym or challenging sports, but your inclination to do those things has wained and your fear of injury is mounting. However, you want to be fit enough to enjoy an active lifestyle, have the strength and flexibilty to move with comfort and freedom, and most of all you want to be healthy and prevent disease and injury. Not to mention looking and feeling youthful!
Regular exercise and a healthy diet are key to achieving the above. Doing the right kind of exercise for your age is essential. That's why I create personal training routines for my clients who want to build muscle strength, get fit and look after their body in their 50's, 60's and beyond.
Over the years I've spent training hundreds people, what I've found is, that many couples enjoy working out and getting fit together. I design their session to suit both of them so that they work at their own pace, towards their own goals, but can encourage one another during the session and continue to work together in between sessions.
Meet Personal Trainer, Koen Bouckaert
Koen is an experienced and highly qualified personal trainer who specialises in working with clients over 50 who want to get fitter and lose weight, and as a result feel healthier, slimmer and more energised.
Based near Horsham, West Sussex, Koen travels to his client's homes to give them a personalised workout, usually 2-3 times a week, ideally outside.
"I love helping people to feel the very best they can and see them build in confidence and happiness as they achieve things they thought they might not do again. My couple fitness sessions are always fun (there's often a bit of banter and light hearted competitiveness between them), but it's great to see how they really want to get fit and healthy together because at the heart of it, they want to be there for one another for the long term.
It often starts with one of the partnership getting in touch with me because they are concerned about the  health of the other, but I work hard to make sure the sessions are challenging, yet do-able for both and it's great to  see them enjoying doing something together."
We're Ready To Get Started
Want to get started with some training? Let's have a chat and see if I'm the right trainer for you. Call me on 07904 198534, email [email protected] or fill in the fill below.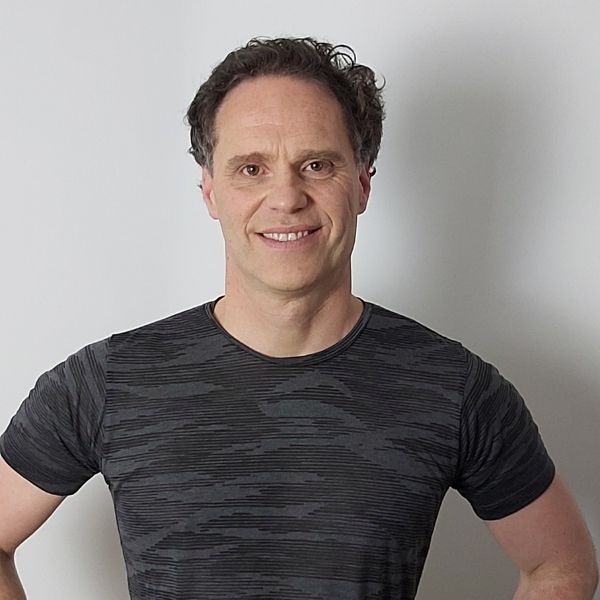 Frequently Asked Questions
What areas do you cover?
I am based south of Horsham in West Sussex and see my clients at their homes. Most are located between Cowfold and Ifold,  down towards Pulborough and Storrington. I'm fairly flexible though, so if you're not sure if I cover your area, please get in touch to ask.
Do you offer online training?
Yes. I offer training online via Zoom if you are out of the area I cover or would prefer online training or a combination of in-person and online.
Do you only train couples?
No. I have several couples who are clients, but also see many individuals. Some couples also choose to have their workouts separately one after the other.
Couples can be any combination and can also be just friends. The idea is that you each have a training buddy so you can support and encourage one another – and of course celebrate with when you reach your milestones and goals.
Do you also offer healthy eating advice?
Yes, I am a qualified nutrition advisor and was a chef in previous life. I set up The 500 Calorie Kitchen a few years ago and share healthy cooking demos on my Facebook page.
What will a typical session look like?
Following a consultation with you both, i will put together a fitness programme for each of you. Sessions will be personalised to your fitness levels and what you want to achieve.
There's no one-size-fits all and sessions will vary from week to week, but will usually involve some boxing, jogging/running, weights and resistance, stretching, core work and flexibility.
What about equipment?
Since the pandemic I have changed how I work. Some of my clients have their own gym area at their home, so if they'd like to we can utilise the equipment they have there for their session.
Many of course don't have a gym, however for hygiene purposes I do receommend a basic range of kit for clients to purchase (either through me or independently) which is just for them to use for their sessions.
The kit will comprise simple items like stretch bands, dumbbells and a mat. Anything more substantial I will supply for the session, which will be sterilised between clients.
What if we need to cancel a session?
I'm interested, what happens now?
That's great! The first thing is for us to have an informal chat on the phone. Please give me a call on 07904 198534. If I'm with a client or driving I won't be able to answer, so please leave a message or complete the GET IN TOUCH form and I'll call you back.
We'll then arrange a free initial consultation so I can find out more about you and your goals. It's also an opportunity for you to ask me any questions. This can be done online or in person.
After the consultation if you decide that you'd like to utlises my sevices and expertise to help  you to get fit and healthy, then we'll book in the sessions for the coming month and get started.
There'll be some forms to fill in beforehand, which I'll email to you with your booking confirmation.
I am very grateful to have had to opportuinity to work with hundreds of clients over the 15 years I've been a PT and am proud to have made a positive impact on their health and welbeing.
If you'd like any references please ask.
How much does it cost?
Sessions for 2 people last 1 hour and are £50/session.
Session for 1 person last 1 hour and are £40/session.
Any promotional offers will be based on these prices.
The sessions include my travel to your home, your workout session and use of any equipment that you do not have yourself.
How it works:
At the beginning of every month we will go through our diaries and subject to availability you will book in all the sessions you'd like during that month. You will be sent an invoice based on these bookings which is payable in advance. Any changes or cancellations will be in acordance with the terms and conditions.
What are your qualifications?
I am a fully qualified Professional Personal Trainer. I also hold qualifications in;
Boxercise
Pilates
Core Stability
Torso Training
Gym Instruction
Advanced Nutrition
Nutrition and Weight Management
Fully insured.
Excellence Award from Bark 2021
Ease your way in and build up slowly... If you're over 50 and haven't been exercising for some time, it can feel daunting to restart again. It can feel disconcerting when you hear other people talking about all the exercise they've been doing and the progress they're...
Don't focus on cutting out the "bad stuff" Embarking on a mission to eat more healthily and get extra vegetables into your diet, is often portrayed as launching a complete overhaul of your current way of eating. That's why for so many of us, from the get go, it feels...
"Koen created a great workout routine for us, we feel better than we have in years."
Claire (57)  and Jim (62)
"I lost 2 stone and got back into my old jeans I thought would never see the light of day again. Nick's the fittest he's been in years and has taken up cycling again."
"Since the kids left home we've been looking at our own lifestyle and realised we were unfit and out of shape. Koen's helped us get back in control and feeling more like our old selves again."